Advantages of green slate roofing
One of the best way in which you can make your green building in an environmentally sustainable way is by opting for green slate roofing services. Since the roof of your house gets exposed to cold,sunlight and heat, you can improve the energy efficiency level of your home.This is preciously why homeowners in different parts of the globe are relying on high-quality green slating roofing services and using them to remodel their homes.
Why slate roofing?
If you wish to go for green building, then slate roofing is the most suitable solution for your home. Roofing companies used hundred percent natural materials for building slate roofs and given the fact that these material require very little amount of processing to convert it into a proper and effective roofing system. Green slate roofing has become an ideal choice for many homeowners. Green slate roofing is highly durable and requires little maintenance, which is yet another reason why homeowners are flocking for this particular roofing system.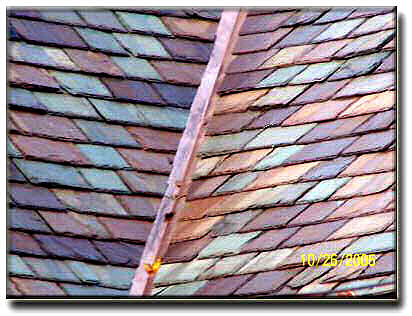 How to increase energy efficiency using green slate roofing solutions?
If you choose green slate roofing system you will make more energy savings as compared to normal roofing system.As far as energy saving is concerned, you can extract the maximum from your green slate roofs by following some of the points listed here:

Rainwater storage system installation:
If you install drums and cisterns while getting your green slate roofing system constructed, you will cut down your bills pertaining to water consumption to a significant extent. You can in turn use this water for the purpose of landscaping.
Radiant heat barrier system installation:
In order to minimize the transfer of radiant heat to the attic of your green building, it is advisable that you get radiant heat barrier system installed. This is basically made of a tin foil and is backed by a mylar sheet of a paper. This will reduce the transfer of radiant heat by around ninety five percent only if you install it towards the underside of the roof.
Environmental advantages of green slate roofing:
You can consider using reclaimed slates, which is basically a natural stone in order to build your green slate roofing system. Consult your roofing contractor and find out if he/she can work with reclaimed slate as it is extremely eco-friendly. Also, at the time of replacing your existing slate roof ,you can send it for recycling instead of dumping it in the landfill or elsewhere.Yet another environmental benefit of green slate roofing is that they last really long. If installed appropriately it can last for around hundred years with only a little amount of maintenance and repair.
In a nutshell, green roofing is all about green building which is energy efficient, high quality, safe and healthy. In order to install them effectively, your contractor won't require anything beyond high quality natural slate and few nails. Green slate roofing will lead to LEED credits by increasing a building's energy efficiency and reducing the heat island effect. It is better that you hire an expert roofing contractor who has the requisite skill and expertise to repair and install slate roofs as even a slight mistake can result in leakage, damage from moisture and give rise to mold inside your house, thereby affecting the air quality and posing health related problems.